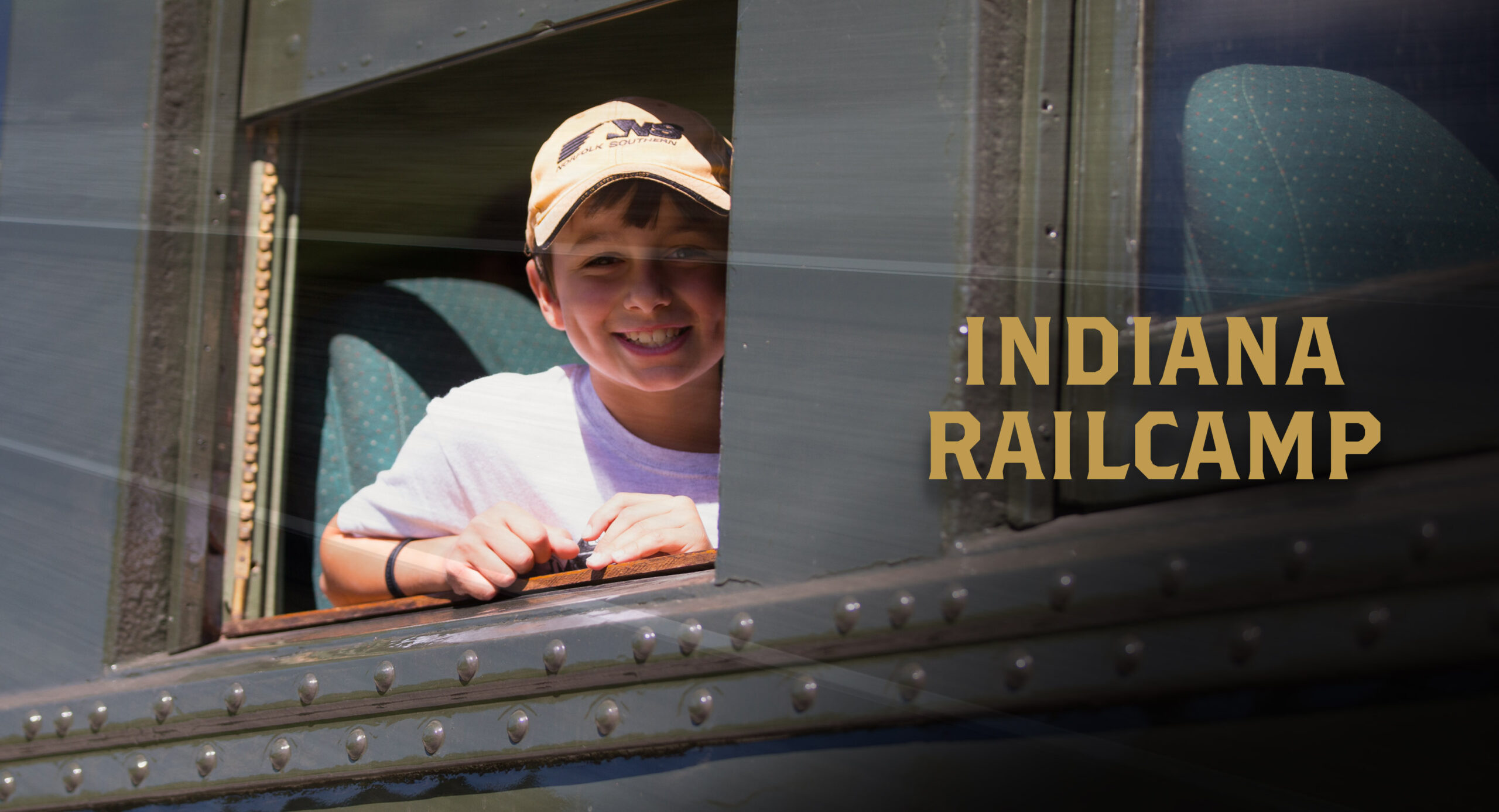 PLEASANT LAKE, INDIANA – A new generation of railroaders will enjoy a special event of immersive hands-on training and education thanks to a partnership between Camp Chief Little Turtle, the Indiana Northeastern Railroad, and the Fort Wayne Railroad Historical Society during the 2023 season of the Indiana Rail Experience.
The Indiana Railcamp – the first of its kind in the state – will welcome up to 30 young adults ages 13 through 17 on July 13th and 14th. Campers will work side-by-side with career railroaders, preservationists, and educators as they learn about freight and passenger railroading, railroad safety, history, construction, model railroading, and both modern diesel-electric and vintage steam locomotives, and Scouts will be able to earn their Railroading Merit Badge. The cost is $150 per camper and registrations are open at scoutingevent.com/157-INDIANARAILCAMP2023.
The first session of Indiana Railcamp will be sponsored by the Dekko Foundation and Steuben County Foundation, and scholarships for qualified attendees are available. Additional dates and expanded experiences will be announced for scouts and the general public. To sign up for future events, visit https://forms.gle/jMH5cBQJobCz98xE6. For information on scholarships, click here.
"We're delighted to find partners in the Anthony Wayne Area Council as part of the Scouts BSA Program at Camp Chief Little Turtle, Dekko Foundation, and the Steuben County Foundation to increase our educational offerings," said Joe Knapke, president of the Fort Wayne Railroad. "We hope some of the attendees will become future railroaders, and begin learning valuable trade skills and knowledge about the rail industry. Passing on these skills, knowledge, and passion is central to our mission."
"We are ecstatic to partner with the Fort Wayne Railroad Historical Society to bring this unique experience to youth in our Scouting community. This is not only an incredible experience, but youth will be deepening their understanding of how railroads play a vital role in our lives. This just may be the spark for our region's next generation of conductors and engineers."
ABOUT THE ANTHONY WAYNE AREA COUNCIL AND CAMP CHIEF LITTLE TURTLE

Anthony Wayne Area Council (AWAC) of the Boy Scouts of America serves 11 counties in northeast Indiana. During the summer, it serves many Scouts from other parts of Indiana, Michigan, Illinois, and Ohio at AWAC's Camp Chief Little Turtle (CCLT). This 1,200-acre camp is located at 2282 W. 500 S., Pleasant Lake, Indiana. Our youth development programs include aquatics, shooting sports, outdoor skills, fishing, conservation, and an innovative STEAM (Science-Trades-Engineering-Arts) Program. This summer, we will offer over 90 programs and merit badge sessions ranging from sailing, climbing, fish and wildlife management, engineering, and welding. In 2023, we anticipate over 1000 youth to participate in our summer camp experience. This includes 4 sessions of Scouts BSA camp for youth 11-17, which is six nights without internet and video games and five days of career & hobby-based instruction. We view summer camp experiences as pivotal experiences in a child's life, from conquering fears and building confidence, to learning a new life skill or career option. We also recognize the importance of youth getting away from devices and out into nature.
ABOUT THE FORT WAYNE RAILROAD HISTORICAL SOCIETY, INC.
For over 50 years, the Fort Wayne Railroad Historical Society has offered remarkable and inspiring experiences through the preservation, restoration, and operation of historic railroad equipment and artifacts significant to Northeast Indiana. An all-volunteer, award-winning, and safety-driven non-profit organization, it has operated Nickel Plate Road no. 765 for over 100,000 miles in public exhibition and passenger train excursion service and routinely welcomes visitors from all 50 states and half a dozen countries. In 2022, Fort Wayne Railroad's Indiana Rail Experience was named Indiana's Best New Experience by the Indiana Tourism Association. Its operations are funded by ticket sales, memberships, donations, grants, and sponsorships.