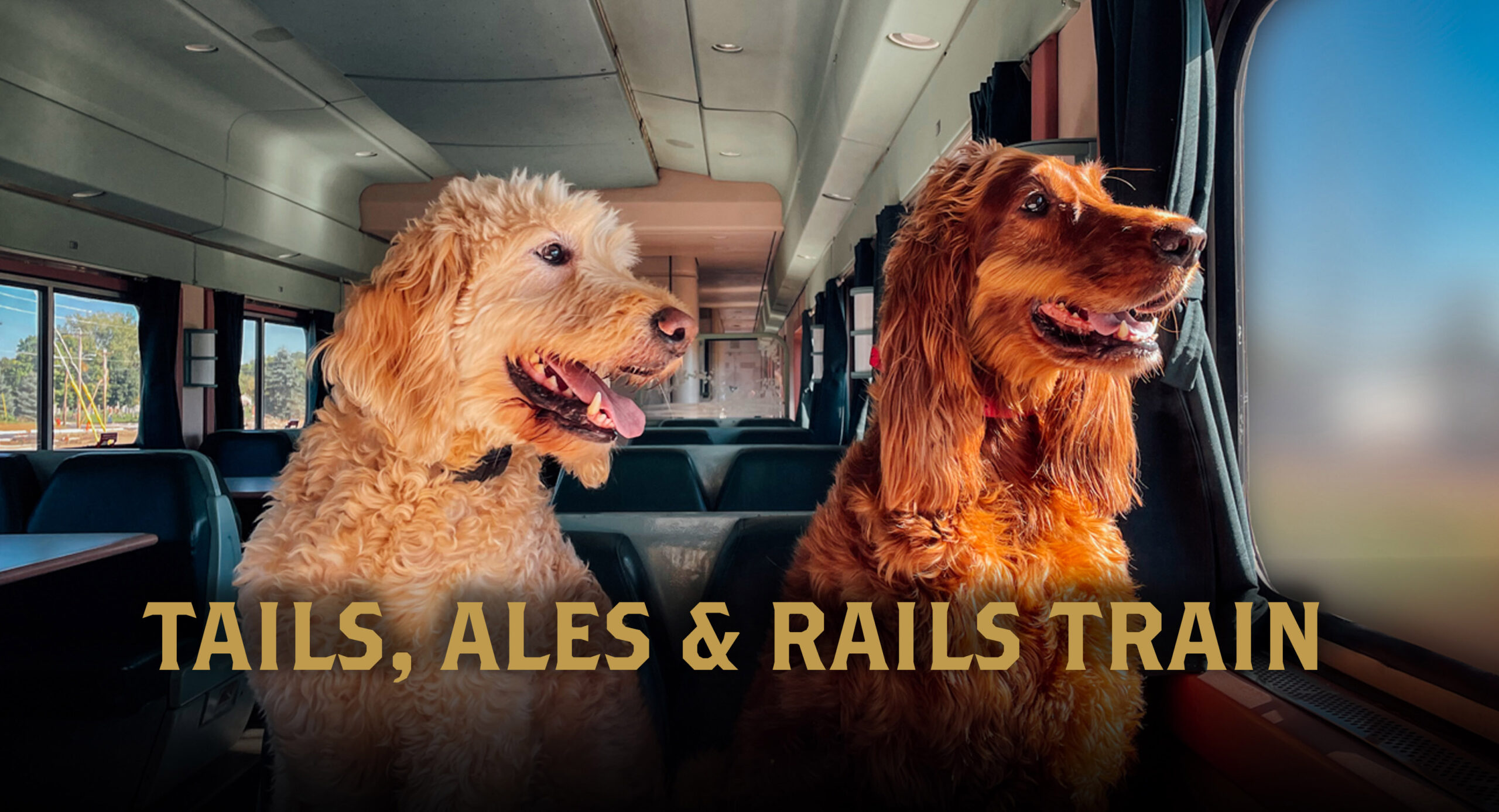 TRAIN DATES
AUGUST 20th – DIESEL-POWERED
1:00 PM and 3:30 PM
Gates open an hour prior to departure.
TICKET PRICES
$45.00 – ticket good for one dog and one person
Duration
Parking & Boarding
1469 W Main Street,
Pleasant Lake, IN 46779
A new way to "train" your dog…
Departing Pleasant Lake, Indiana, on August 20th at 1:00 PM and 3:30 PM, the Fort Wayne Railroad and Indiana Rail Experience will host the Tails, Ales & Rails Train for good dogs and their owners on a festive 1.5-hour trip through the countryside. Tickets include a train ride, a drink ticket, puppy treats, and swag, and a portion of the proceeds will benefit local animal care.
Hosted in combination with the Dekalb Humane Society and Community Humane Shelter of Steuben County. Adoption candidates, live entertainment, local pet vendor booths, and more are also planned. The train will feature seating for pets and their owners.
Pet Rules & Requirements
To attend, all dogs must be socialized, well-behaved, in good health, leashed via collar or harness, have trimmed nails, clean coats, and be up-to-date on vaccinations. Guests must provide current immunization records at the time of the event and be ready to present them at check-in. This event will feature stairs, moving vehicles, and infrequent loud noises in a public setting. "Woofs," "awoos," and "arfs" are permitted. Excessive barking is not. Please use your best judgment as a responsible pet owner to help ensure this event is safe and enjoyable for everyone.

ACCOMMODATIONS
Train Ticket | $45.00
Tickets include a train ride, drinks, puppy treats, and swag, and a portion of the proceeds will benefit local animal care.
Climb aboard our time machine
What to expect
Riding aboard a vintage train can be an exciting and memorable occasion. Our events are meant to be sensory experiences – from the onboard accommodations and food service to the dramatic sights and sounds of a historic locomotive pulling the train. With the exception of our open window and open-air cars, all cars are climate controlled and restrooms are available on board throughout our train set.
Food and drink service are specific to your ticket purchase. Please check the details for your tickets and trip and always make sure to check your email for your receipt and pre-trip instructions and information. Be sure to review our FAQs, safety-related items, and disclaimers located under the ticket information. We look forward to seeing you aboard!
Looking to climb aboard?
Contact the Ticket Agent
Questions about your order or accomodations? Our volunteer staff can be reached by clicking the button below.