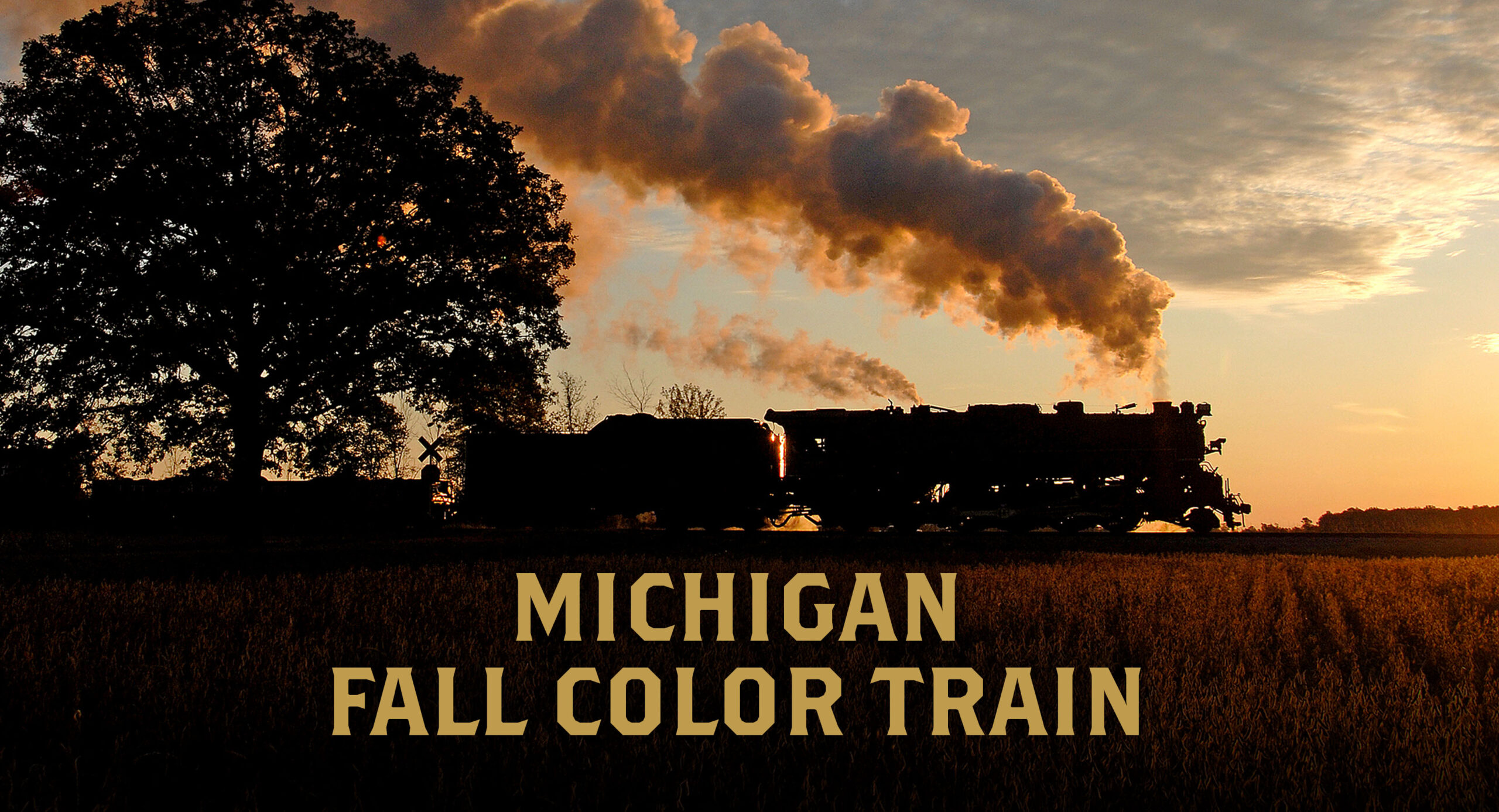 TRAIN DATES
October 14th & 15th – STEAM & DIESEL POWERED
Hillsdale, Michigan – Angola, Indiana
TICKET PRICES
$99.00 – Open Air Class
$119.00 –  Deluxe Coach
$249.00 – First Class Silver Diner
$249.00 – First Class Paul Revere Lounge
$879.00 – First Class Paul Revere Table (Seats 4)
$279.00 – Woodland Stream First Class
$497.00 – $579.00 – Woodland Stream Suites (Seats 2 or 3)
$325.00 – Pullman Experience with onboard chef
Duration
All-day excursion
9:30 AM – 6:00 PM
Boarding Location
MICHIGAN FALL COLOR TRAIN STATION
50 Monroe St
Hillsdale, MI 49242
Parking & Shuttle Location
Hillsdale County Fairgrounds
115 South Broad St
Hillsdale, Michigan 49242
Enjoy an all-day excursion through the Michigan and Indiana countryside this October! These all-day excursions will treat passengers to a scenic ride aboard a vintage passenger train featuring historic steam locomotive no. 765 leading one direction of the trip.
Departing downtown Hillsdale, Michigan at 9:30 AM, the train will travel south toward Angola, Indiana for a 3-hour layover where guests can enjoy shopping, antique stores, and lunch on their own in a variety of area restaurants and food trucks near the campus of Trine University.
With a scheduled departure from Angola at 3:00 PM, the train will arrive back at its origin at approximately 6:00 PM.
Deluxe Coach, Open Air, First Class, Tables, Suites, and Private Car tickets are available. Select amenities include open vestibules, onboard entertainment, a photo runby, and light appetizers and drink service for first-class passengers.
PLEASE NOTE: Due to limited turning facilities on the southern end of the line, trips departing Hillsdale for Angola, Indiana, will operate with the 765 in one direction and a historic diesel locomotive in another.
ACCOMMODATIONS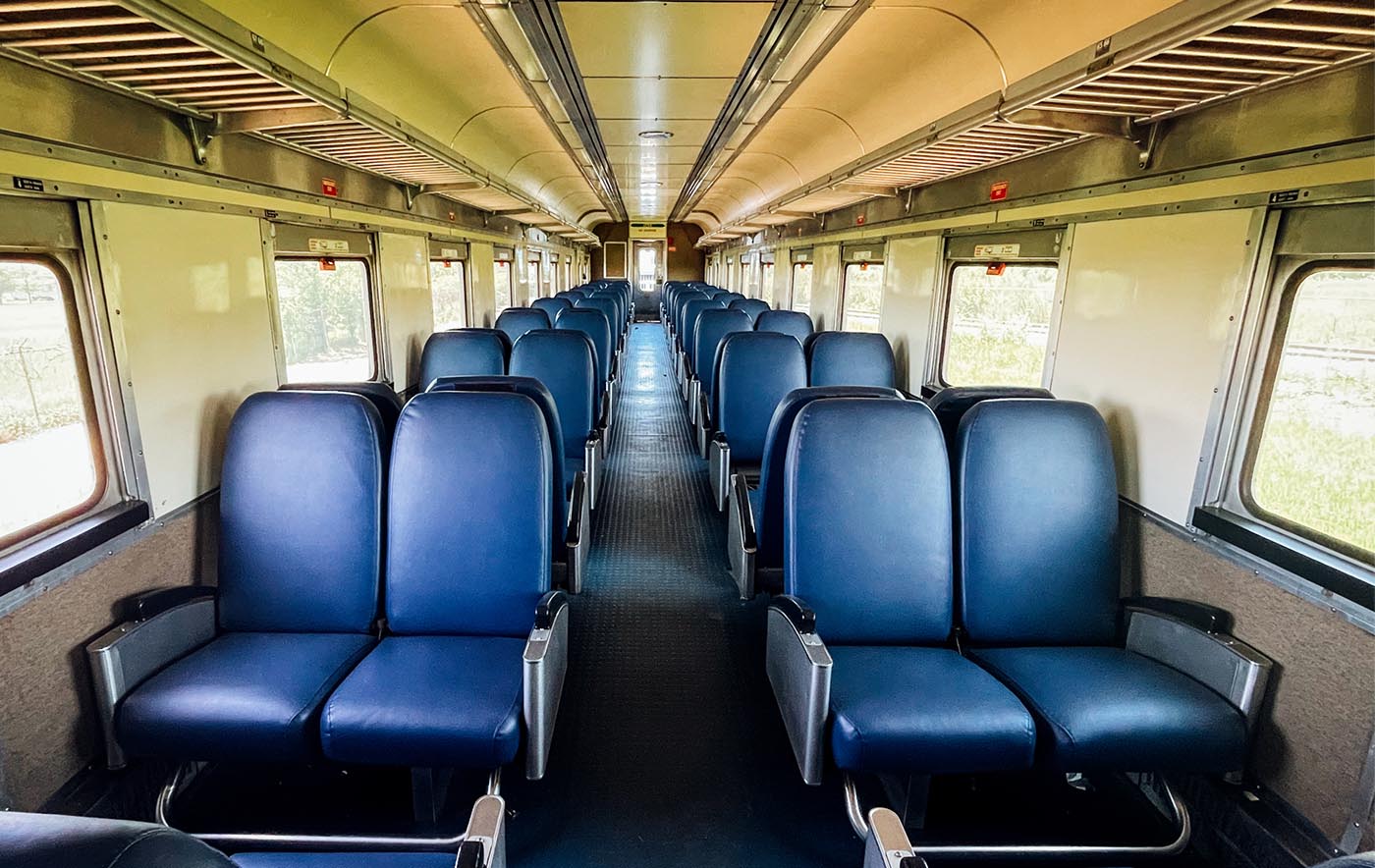 Deluxe Coach | $119.00
Seating in the Collinsville Inn (No. 148), Franklin Inn (No. 142), or Norrisville Inn, (No. 147), these deluxe coaches feature reclining chairs, heating, and open vestibules. Children three and under do not require a ticket if they occupy your seat or lap.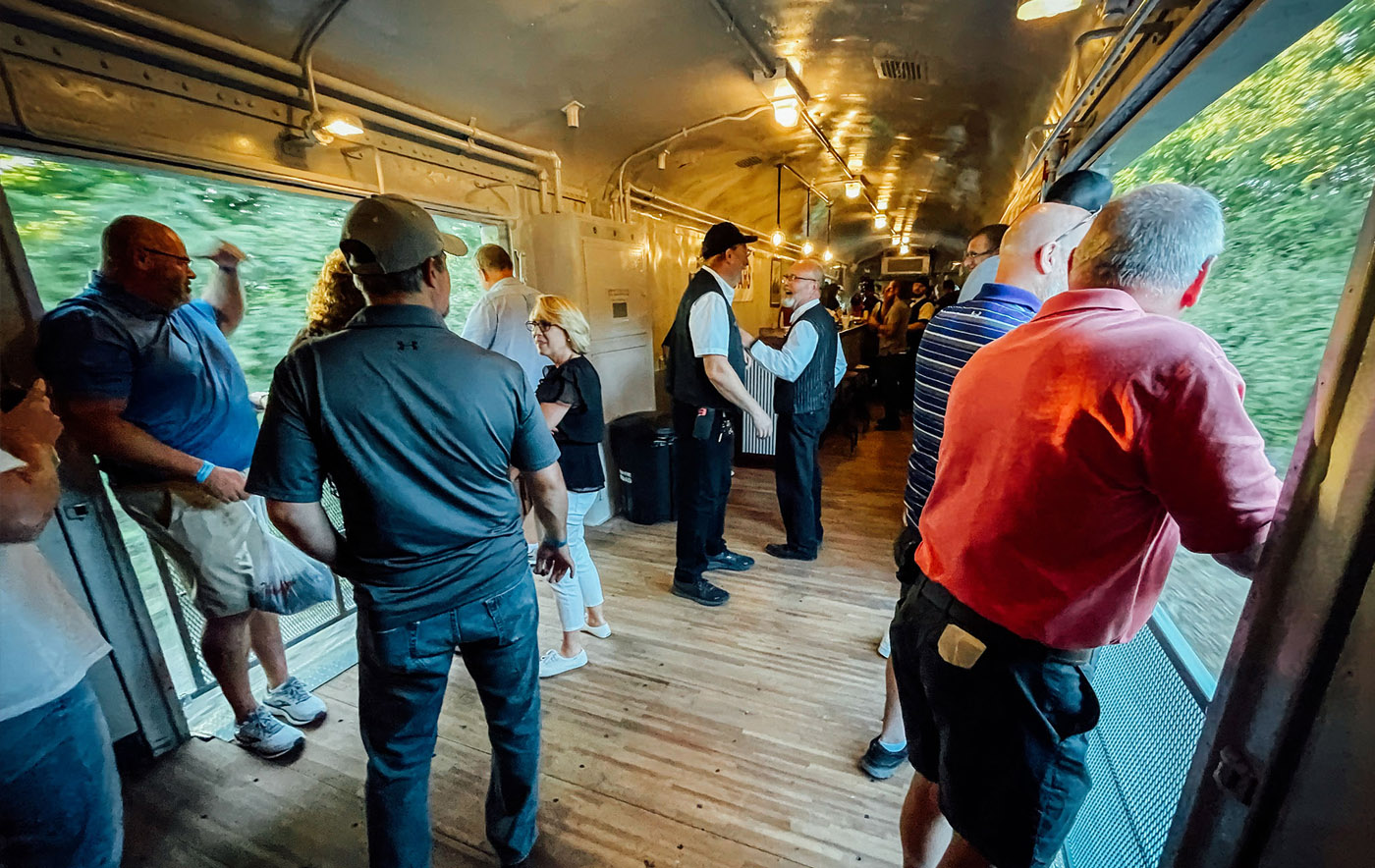 Open Air Car | $99.00
With its four open baggage doors, the John H. Emery allows passengers to experience the sights and sounds of historic steam railroading at speed. The Emery features first-class food and drink service. PLEASE NOTE: This car is standing-room only and not climate controlled.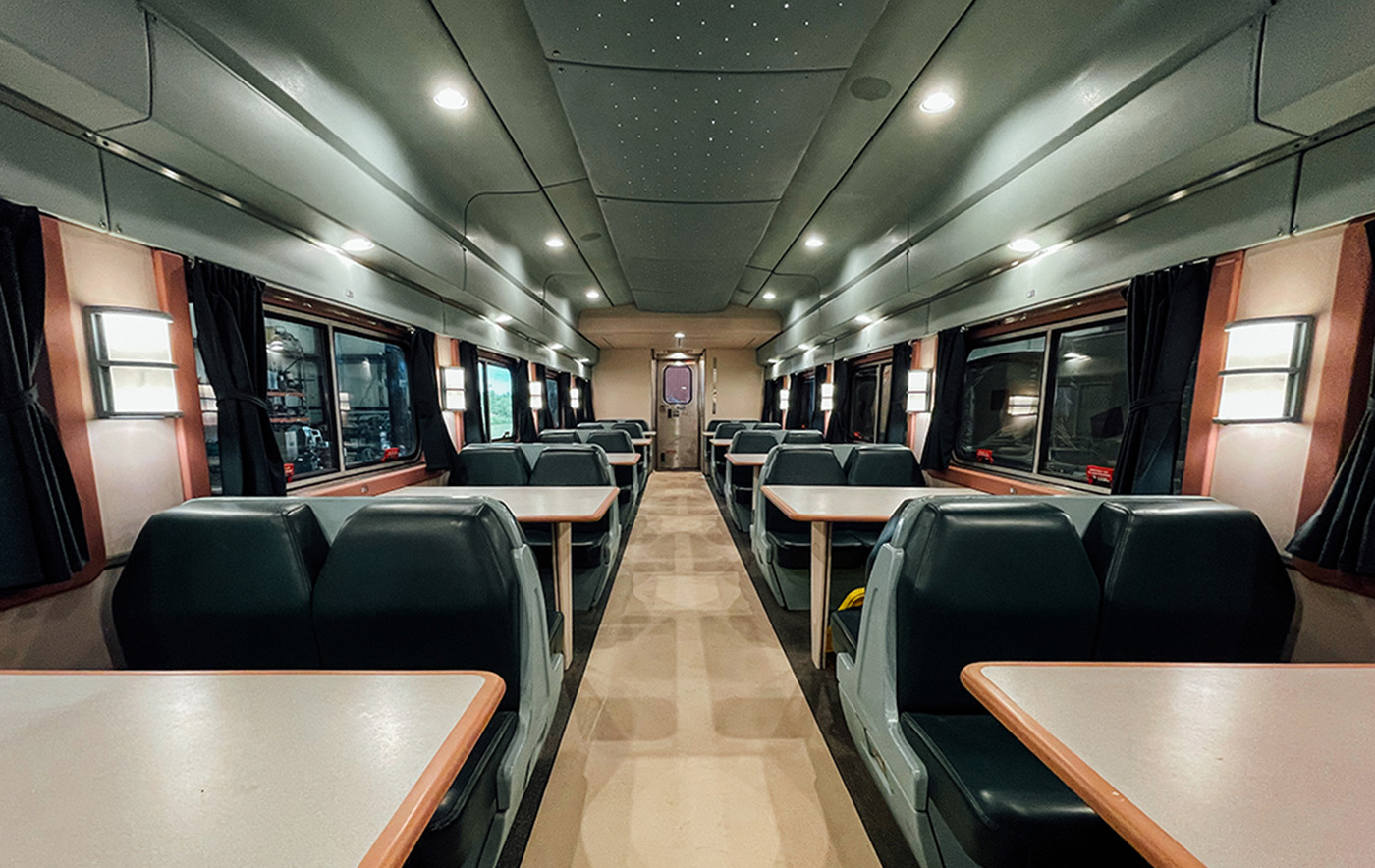 First Class - Silver Diner | $249.00
First-class accommodations in the Silver Diner, 1950s dining car parlor car originally built for the California Zephyr and later upgraded and operated by Amtrak. This ticket includes light breakfast appetizers and refreshments served on board.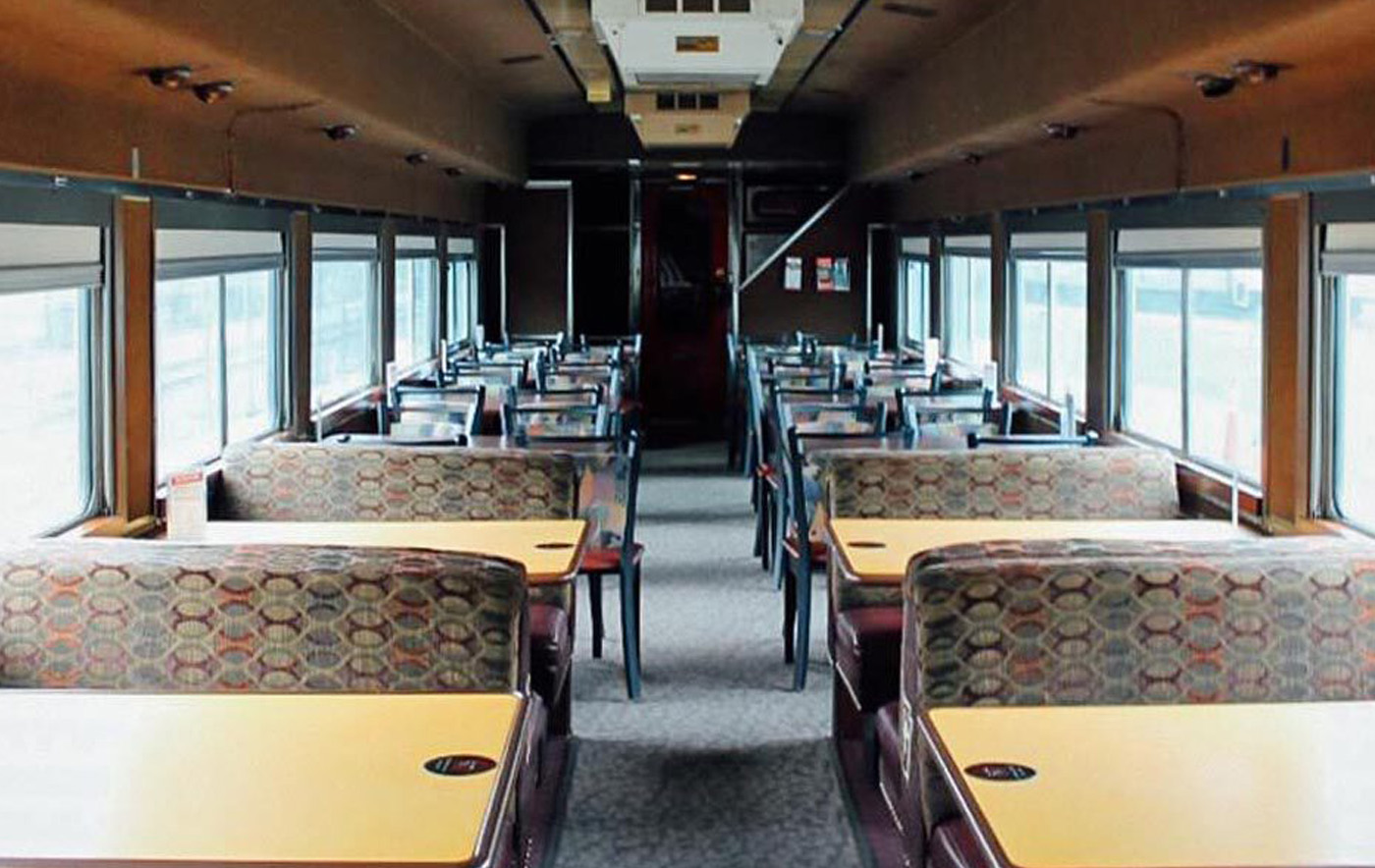 First Class - Paul Revere Lounge | $249.00 – $879.00
First-class accommodations in the Paul Revere, a 1951 parlor car originally built for the Pennsylvania Railroad. This ticket includes light breakfast appetizers and refreshments served on board. Individual lounge seats and tables for four guests are available.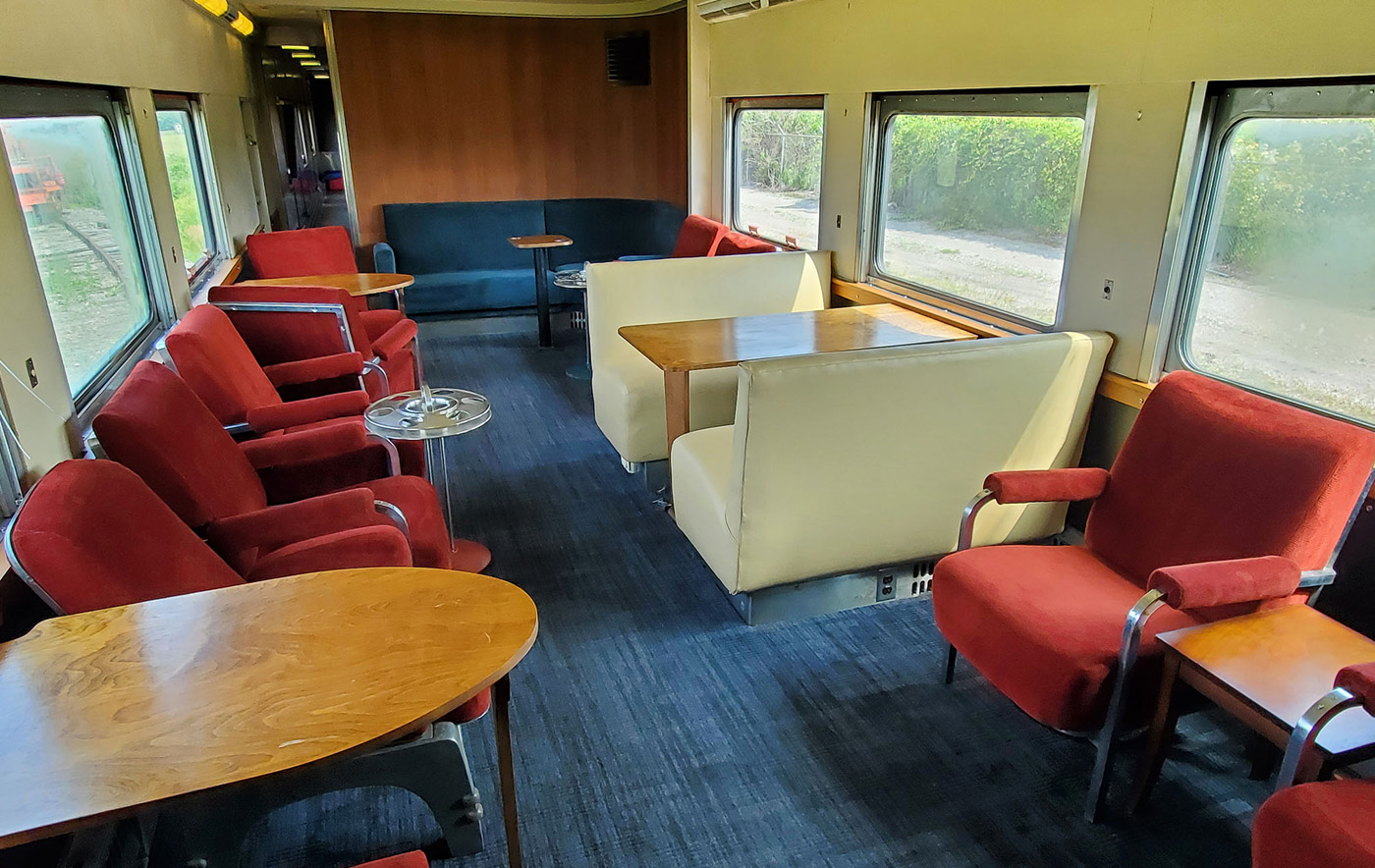 First Class - Woodland Stream | $279.00 – $579.00
First-class accommodations aboard the Woodland Stream, a 1949 lounge car originally built for the New York Central Railroad. This ticket includes light breakfast appetizers and refreshments served on board. Lounge seating and suites are available.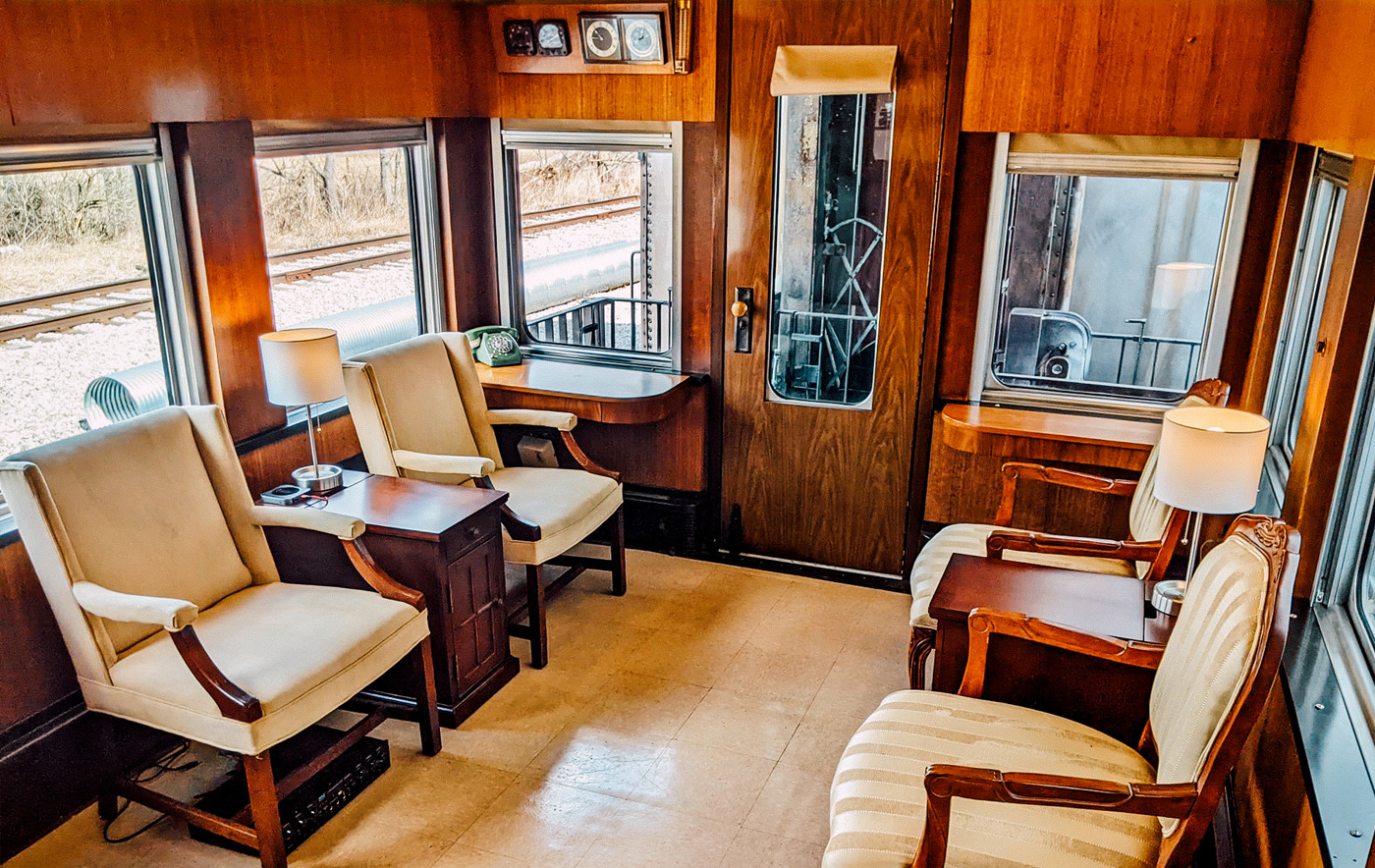 Pullman Experience
$325.00
Enjoy exclusive accommodations for a group of approximately 15 guests aboard the Roanoke, a private Pullman business car originally built for the Norfolk & Western. Ticket includes breakfast prepared on board and refreshments throughout the day. This car is limited to 12 guests, with open seating in the solarium, rear platform, bedroom suites, and dining room.
Climb aboard our time machine
What to expect
Riding aboard a vintage train can be an exciting and memorable occasion. Our events are meant to be sensory experiences – from the onboard accommodations and food service to the dramatic sights and sounds of a historic locomotive pulling the train. Passengers can enjoy standard accommodations in our open window coach or regular deluxe coach classes, or opt for a special experience on our open-air car or within our first-class lounge cars straight out of the 1940s and 50s. With the exception of our open window and open-air cars, all cars are climate controlled and restrooms are available on board throughout our train set.
Foodservice is generally only available in first class and lounge car accommodations, and available when specified as part of your ticket purchase. Please check the details for your tickets and trip, as onboard food may not always be available, and always make sure to check your email for your receipt and pre-trip instructions and information. Be sure to review our FAQs, safety-related items, and disclaimers located under the ticket information. We look forward to seeing you aboard!
Looking to climb aboard?
Contact the Ticket Agent
Questions about your order or accomodations? Our volunteer staff can be reached by clicking the button below.